The Burren Loop Cycle Package Tour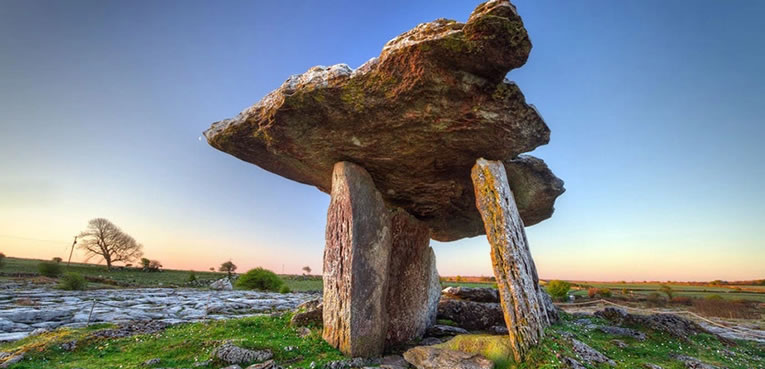 Our Burren Loop Cycle package tour will introduce you to the beautiful scenery of the Burren & the West coast of Ireland ,the tour starts & finishes in Galway city , it's a great place to explore & sample the atmosphere of our local pub's & restaurants & take in a walk exploring around the old cobbled streets of the city & enjoy the views across Galway Bay from the Spanish Arch.
This Package Tour takes you on a loop cycle around the Burren Region ,with fantasic views cycling along the Wild Atlantic Way around Galway Bay and southward to Doolin , the Cliffs of Moher , the Spanish Point & Kilkee before turning inland to explore the heart of the Burren where there are plenty of interesting place to visit on this tour...Ailwee Caves , the Dolmon grave stones, & the coastal walk from Doolin to the Cliffs of moher plus visit a 15th century Stone Castle.
Our specially designed cycling tour around the Burren Region has an average daily cycle of 55 to 65km, taking in some of the most beautiful coastal scenery along the west of Ireland with incredable views along Galway Bay & onto all 3 of the Aran Islands, most days you will be cycling on quiet country roads & along parts of the Wild Atlantic Way .
The Burren Loop Package Tour – Cycling Route
Galway- Ballyvaughan - Doolin - Kilkee - Ennis - BallyVaughan - Kinvara - Galway
Day 1: Galway to Ballyvaghan ( 30 miles – 50 km )
Day 2: Ballyvaughan to Doolin ( 20 miles – 30km )
Day 3: Doolin to Kilrush ( 41 miles – 67km )
Day 4: Kilrush to Ennis ( 28 miles – 45km )
Day 5: Ennis to Ballyvaughan ( 31 miles – 52km )
Day 6: Ballyvaughan to Kinvarra ( 25 miles – 40km )
Day 7: Galway City ( 25 miles – 40km )
Tour Departure Dates
April:
May:
June:
July:
August:
September:
What's Included
The tour is for seven days and includes , bicycle hire, information pack and route maps.
Information Pack
Each of our package tours includes:
an information pack about each tour
a full contact list of the all the bed and breakfast accommodations for this tour
a printed map location of each bed and breakfast and a contact phone number
a daily detailed cycling route map
information about what there is to see & do on each days route
a must see & do or visit or places of interest along the daily route
local information for each day ....eg. shop , pubs & restaurants, gift-shops
Included with the bike
Our bikes are Marin alloy hybrid touring bikes & are perfect for long distance cycling. Each bike is equipped with:
mud-guards
alloy pannier rack
kick stand
handle bar bag
lock
cycle repair kit
spare tube
tyre leavers & allan key set